What to Expect
Your First Visit with a Streamwood Chiropractor
At Healthcore Clinic, our goal is to make patients feel as comfortable as possible on each and every visit with us, especially the first.
From the moment you enter our office, our helpful and friendly front desk staff will greet you with a smile and provide you with the necessary paperwork to be filled out if you haven't previously downloaded and completed our online forms. Expect this paperwork to take approximately 10 to 15 minutes of your time.
Next, Dr. Kassim will perform a thorough physical examination to determine what type of treatment plan will bring you the best results. If he believes Xray's should be taken, we can perform them in our office for your convenience. Unlike other chiropractors, Dr. Kassim and his staff will take the time to listen to your concerns and give you the opportunity to ask any questions you may have.

Your Second Visit
After Dr. Kassim has had ample time to review your report of findings, Xray's and examination notes, we'll welcome you back to our practice and go over all of the information with you. During this visit, Dr. Kassim will make his recommendations for treatment as well as discussing where the specific disturbance in your body is happening.
Your unique treatment plan may include one or a combination of the following:
Chiropractic Adjustments
Physical Therapy
Massage Therapy
Spinal Decompression
Smartsound Therapy
Laser Light Therapy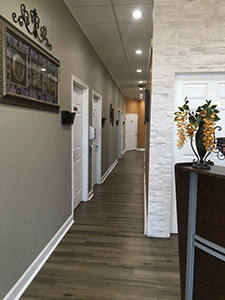 Ongoing Care
During each visit, Dr. Kassim will evaluate your progress and may make changes to your plan depending on your body's improvements. Our staff wants you to achieve optimal wellness, and we all do our best to make sure that happens! For patients visiting us for care following an injury or trauma, we do recommend maintenance care after you're feeling recovered. Maintenance care allows the body to stay in peak performance mode.
However, it's important to note that you'll be completely in charge of the frequency of your visits—after all, you know your body best.
Please note, maintenance care may not be covered by your insurance.
Want to Learn More? Give Us a Call
Dr. Kassim and our passionate team are excited to meet you. For more information about what to expect during your first appointment, give us a call. We accept most insurance plans and will work to verify your information before your appointment so you know exactly what to expect.
Contact our practice today to book your appointment.
---
New Patients | Healthcore Clinic |
(630) 483-8920